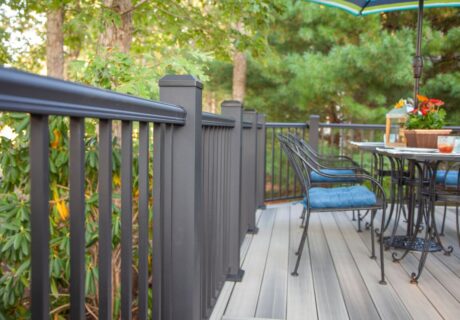 Building your dream deck may seem simple, but there are several important safety codes that need to be met before you and your family can have the perfect outdoor space. Depending on your deck plans, there are five common safety codes that typically come into play. Take the time to understand each one so you have a better chance of passing your local building code's inspection.
If your deck is more than 30 inches off the ground, you need to install a guardrail.A guardrail is not the same as a handrail — the former is code tested to make sure you don't fall off your elevated deck, while the latter is a horizontal or sloped, graspable railing used for support, often on stairs. If you plan to have your deck raised, it's important to measure the height so you know whether you need a rail or not. Regardless of height, you can always add a guardrail if you choose, and all railings should be easy to grip while meeting your local building code's size requirements.
You can't use fencing on a deck that is more than 30 inches tall.Just as guardrails are required on decks higher than 30 inches, you can't use a fence on a deck in place of a railing when it's more than 30 inches high. When your deck is that high off the ground, it's important to have railings that are subject to a variety of safety testing in place, and fencing can't typically provide that.
Residential and commercial decks require different heights for railings*
The International Residential Code (IRC) requires that railing be 36 inches high for all residential applications, while the International Building Code (IBC) requires commercial railing to be 42 inches high. These heights are standard no matter how high your deck is off the ground.
If using a bottom rail, it can't sit more than 2 to 4 inches above the deck surface. 
If your railing has a bottom rail, make sure it's no more than 2 to 4 inches above your deck. Some areas of the country may only require 2-inch spacing, while others may require 4 — it all depends on your local building code. The reason behind this spacing is to help keep children safe. Even if you don't have kids, your local building code will likely still require this when using a bottom rail. Bottom rails aren't the only parts that need to follow this 4-inch rule — balusters and posts must also be no more than 4 inches apart.
Handrails are required when your deck's stairs have four or more risers.If your deck is low to the ground, you may not consider whether handrails are necessary on just a few stairs. But if there are four or more risers, handrails are required. Handrails must be installed so that they're 34 to 38 inches above the stair tread nosings. They need to be graspable, and if they're not, then a secondary graspable handrail can be added.
There are two types of handrails:
Circular handrails that a child or older adult's hands could get around Handrails with graspable finger recesses on both sides. Both types of handrails must meet specific size requirements. Knowing these safety codes for your deck and railings can help the building of your deck go smoothly and on schedule. Don't risk failing inspection. Before breaking ground, always check with your local building code to ensure your deck meets all safety standards in your city.
*Be sure to refer to the local building code.